Silver Steered
A downloadable game for Windows and macOS
It's 2065 and practically all the world flora has been destroyed by humans. Neverthless one place remains, the last lung of earth, Silver Steered, a botanical garden dedicated to conserve the species that once flourished on earth. Managed by robots to avoid the hand of man and to let the flora grow on its own.
Play as 808 Erwin, the new security guard model, just after some hackers decoded the security system and all the employees in the garden revealed themselves.
Now it's your time to reactivate the security system in this frenetically crazy top down shooter.

Controls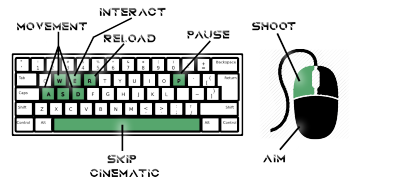 Credits
Created and Developed by MagnetTeam
Lead Programmer: Dan Roeniger
Lead Artist: Gerard Maynegre
Artists: Mar Lopez, Jordi Pascual
Lead Designer: Álex Montaño
Producer & Animator: Sergio Mora
Music by Lyen (https://soundcloud.com/lyenmusic)
Install instructions
Unzip and execute!
That's all you need to do to get yourself in Erwin's skin.